September 21st marked the official end of summer even if the triple digit heat index in New Orleans did not make it feel like it. With the end of the season we can look back on what was a violent summer and compare it to years past. Doing so reveals that 2016 was the worst summer on record going back to at least 2008.
There were 136 shootings from June 21 to September 21 with 52 of those shootings being fatal (38.2%) and 59 total murders. Those numbers are fairly astounding. That's 1.5 shootings, 0.56 fatal shootings and 0.64 murders per day for three straight months. That would work out to 540 shootings and 234 murders in New Orleans over the course of a full year.
How does that compare to year's past?
Data is available on murders from 2008 to present and shootings from 2010 to present and shows how much worse 2016 was than each of those years. There were 23 more shootings this past summer than the previous worst summer on record (2010). There were 9 more fatal shooting incidents than the previous worst years on record (2012 and 2015), and there were 3 more murders than the previous worst year on record (2009).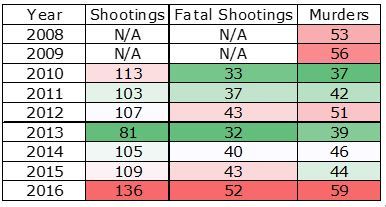 The end of summer saw a slight slowdown in shootings as is somewhat expected, but there has not been a concomitant slowdown in murder as the percentage of shootings ending in a fatality slowly rises in 2016 toward the historical mean.
New Orleans is currently on pace for 452 shootings and 170 murders in 2016, both of which would be the worst figures here since before NOLA for Life began. There are still three more months in the year left, and avoiding the worst year in NOLA gun violence in a half-decade will require a change to the trends that have gripped the city since April.