It's early.
It's important to get that out of the way first because the crime patterns to start a year often aren't the same crime patterns that are most concerning at the end of the year.
That said, it has been a rough first week and a half in a number of aspects of NOLA crime.
Shootings
The start of 2017 does little to dampen the pessimism I felt about our direction in terms of gun violence. Through January 11th we've had 24 people shot in 20 shootings with 9 of them (45 percent) being fatal. Dating back to 2010 that's the 3rd worst start in terms of number of shooting incidents (24 in 2012, 21 in 2013), the worst start in terms of murders, and the second worst start in terms of shooting victims (35 in 2012).
Taken in a vacuum I would caution people not to worry, say that it's early and lots can change in the next 350+ days. We don't exist in a vacuum, however, and the first few weeks of 2017 taken in context of the last 6 months of 2016 screams that we are in a gun violence crisis. There have been 497 shooting incidents over the last 365 days and over 600 people have been shot in that span.
Even more problematic is the firearm discharge reports suggest that we continue to experience roughly the amount of shootings that we'd expect and slightly fewer than expected fatal shootings. I wouldn't expect 45 percent of shootings to be fatal for the full year, but if 36 percent are fatal (as opposed to 31.9 percent in 2016) and we have the same 486 shootings that could translate to 200 murders in 2017.
Robberies
Armed robberies and carjackings are virtually identical through 11 days to where they were through the same timeframe each year since the big rise in 2014.
| | |
| --- | --- |
| Year | Armed Robberies Through Jan 11 |
| 2017 | 32 |
| 2016 | 34 |
| 2015 | 33 |
| 2014 | 30 |
| 2013 | 16 |
The story of armed robberies is written in the latter half of the year though, so it is way too early to make any projections about what 2017 will bring. Armed robberies and carjacking should slow down in February and not pick up a ton of steam until the fourth quarter. Our armed robbery problem appears to be about what it was in the last few years meaning it is not getting worse but still considerably higher than it was from 2010 to 2013.
Other Crime
The news is similarly grim in terms of the overall Uniform Crime Report (UCR) Part I Calls for Service which make up my UCR Estimator. Overall crime in 2017 (black line below) is up 9.5 percent relative to this point in 2016 and the current pace is above where it has been any year dating back to 2010.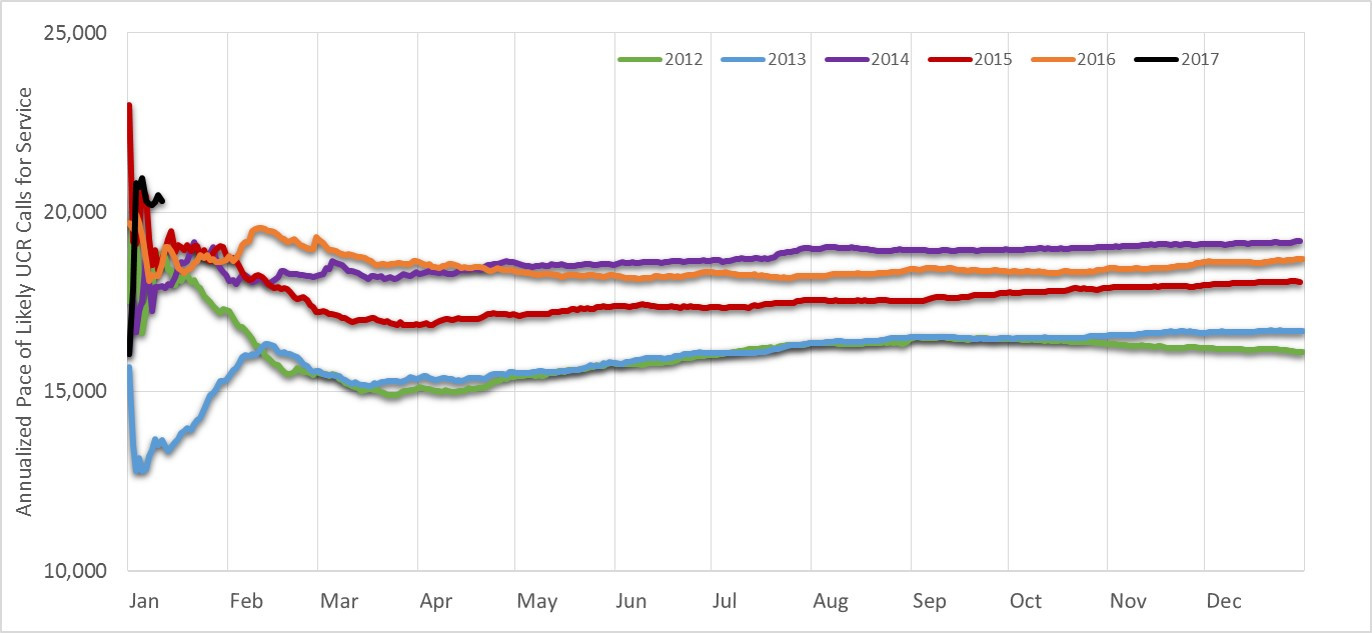 Things are extremely fluid this time of year and a few good days would bring the city right on line or below last year's pace. In addition, it's possible that improved response times (NOPD didn't begin its redeployments that helped reduce response times until after Mardi Gras 2016) may be contributing to more crimes being responded to quicker.
All told the evidence suggests this is a good time to be concerned (especially about gun violence), but there's no evidence yet of an incoming spike in crime.